Kazakhstan and Kyrgyzstan established understanding in all spheres – Nazarbayev
26.12.2017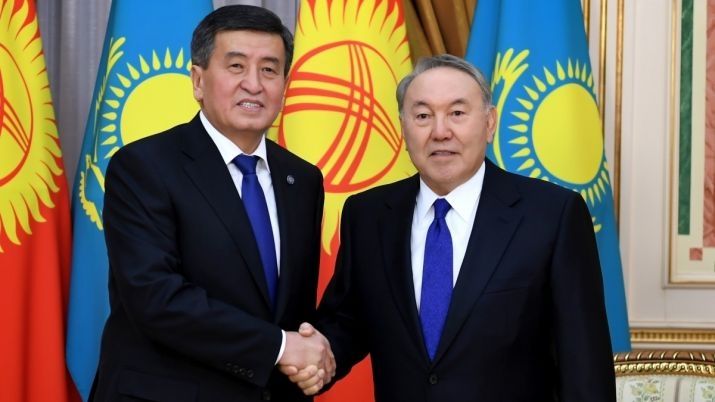 The head of state Nursultan Nazarbayev held a meeting with the President of the Kyrgyz Republic Sooronbay Jeenbekov, Kazpravda.kz reports with reference to the press service of the President of the Republic of Kazakhstan.
After the official ceremony of the meeting between the heads of state, the talks were held in private.
Nursultan Nazarbayev expressed gratitude to Sooronbay Jeenbekov for accepting an invitation to pay an official visit to Kazakhstan and noted that the first visit of the President of the Kyrgyz Republic is taking place on the 25th anniversary of the establishment of diplomatic relations between the two countries.
Nazarbayev stressed the historically established friendly character of Kazakh-Kyrgyz relations.
In turn, Sooronbay Jeenbekov thanked Nursultan Nazarbayev for the opportunity to pay an official visit to Kazakhstan and for congratulating him on the victory in the presidential elections.
"This is the second time we meet after your election as the President of Kyrgyzstan," Nazarbayev said. "Let your official visit to Kazakhstan, arranged at my invitation, be productive for the future friendship of the two countries. We have been waiting for you, we are glad to meet you. Kazakhstan is ready to solve all the issues raised. We are working in the setting of 26 years of independence. I personally have never said any bad things about Kyrgyzstan and have never taken any action to the detriment of Kyrgyzstan. Because we come and leave, whereas the neighboring countries remain. They existed before us. The goal of each generation is to pass down the friendship ties to the next generation. Therefore, welcome."
For his part, Sooronbay Jeenbekov expressed profound gratitude to Nursultan Nazarbayev for the invitation. "Coming off the plane, we were warmly welcomed. We felt it. When I was elected the President, you sent a very warm congratulation to me and, taking this opportunity, I express my gratitude to you. You are our aksakal, brother. This year marks the 25th Anniversary of the establishment of the diplomatic relations between our countries. 20 years have passed since we signed the Agreement on eternal friendship. This visit coincides with these jubilees," the President of Kyrgyzstan said during the meeting.
At the end of the meeting, the heads of state expressed their confidence that the negotiations held today and the documents signed will contribute to further strengthening of bilateral relations.
Reported by the Kazakhstanskaya Pravda, Kazinform.