Sooronbai Zheenbekov officially takes office as president of Kyrgyzstan
27.11.2017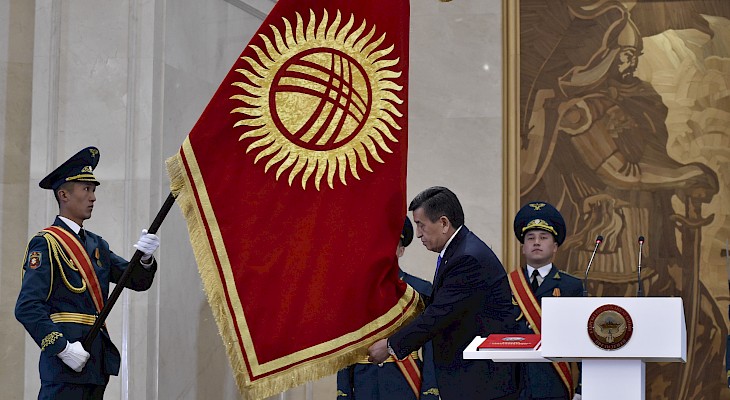 On Friday Bishkek hosted the inauguration ceremony of Kyrgyzstan's new President Zheenbekov.
During the ceremony, Zheenbekov took the oath. After chairwoman of the Central Election Commission of Kyrgyzstan Nurzhan Shaildabekova presented to the new president a badge and a certificate of the president of the country. In addition, Almazbek Atambayev handed over the standard of the president - the flag of Kyrgyzstan.
450 people were invited to the inauguration ceremony, including heroes of Kyrgyzstan, representatives of the public, creative and scientific intelligentsia, members of the Kyrgyz Parliament, members of the Government, diplomatic corps, representatives of international organizations.
Sooronbai Zheenbekov won the presidential elections, which were held in Kyrgyzstan on Oct 15, 2017.
Kyrgyzstan will continue to actively participate in all integration processes, newly-elected President of Kyrgyzstan Sooronbai Zheenbekov said today during the inauguration ceremony in Bishkek.
He said that, Kyrgyzstan will continue to actively participate in international organizations such as the UN, the CIS, the SCO and the EEU.
Zheenbekov said that cooperation with fraternal Russia, which is a strategic partner of Kyrgyzstan, will be enhanced.
"Cooperation with neighbouring China will be deepened. The common history, relations, friendship, culture connect us with the countries of Central Asia. At the same time, these relations tediously strengthen, partners respect each other and adhere to the principles of non-interference in the domestic policy of the country," he said.
The President said that cooperation with the countries of Europe and Asia will be continued, in particular with such countries as Japan, Korea, India, Mongolia, Iran, Pakistan and Arab countries.
"Our goal is clear and precise. We will follow the path of development, and we will make Kyrgyzstan comfortable for investment, a free, legal and strong state. In the coming year we must transfer the economy from the consumer to the investor," the head of state added.
Reported by Kabar (Kyrgyzstan).