Atambayev meets with Putin
20.11.2017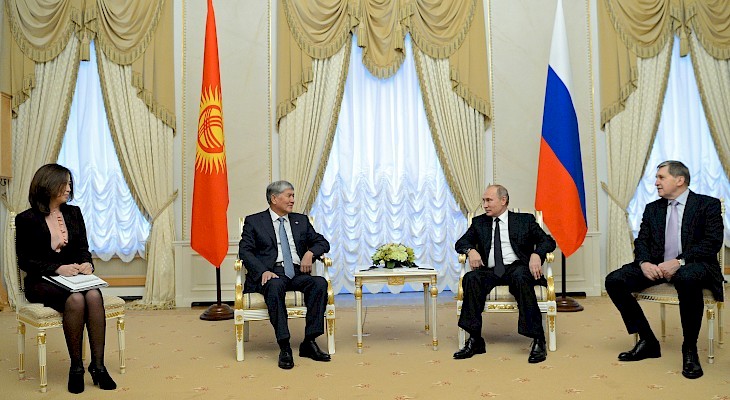 President of Kyrgyzstan Almazbek Atambayev today met with President of Russia Vladimir Putin during his working visit to t St. Petersburg of the Russian Federation.
The Kyrgyz President's press service reported that Putin warmly welcomed Atambayev and called it symbolic that the first and final visit of the Kyrgyz leader took place in Russia.
"I am pleased to note that during your presidency the quality of Russia−Kyrgyzstan relations has significantly changed. The Kyrgyz Republic became a member of our economic union. There has been progress in our cooperation in the economy, security, including strengthening of the external borders, and culture," he said.
"I am particularly glad that you accepted the invitation and arrived for this cultural forum. You will see that it is a major and very interesting international event that is taking place for the sixth time in Russia, in its cultural capital, St Petersburg, which is for a reason," Putin said.
Putin also assured Atambayev in further deepening of humanitarian cooperation and the support of initiatives aimed at further studying of Altai civilization.
"I know you have many ideas about reinforcing and building up the results that our peoples have achieved together over the previous decades and, perhaps, even over centuries. Your initiative in this respect is inspiring and we have supported and will support it further. I believe it is very important to emphasise the long history of our relations. We have already spoken about this. The first major event already took place in Kyrgyzstan. We are ready to offer Russian venues for future events as well, so I will be glad to discuss the entire scope of our relations," he said.
The Kyrgyz President, in turn, expressed satisfaction with the level of development of relations between the two countries, connected with a centuries-old history.
As you know, this year we hosted the Altai Forum, bringing together academics from about 30 countries. Next year, there will be another event, the International Altai Congress. It was held in many places, except Altai. But this time we persuaded them to hold it in our country.
This forum is dominated by Western researchers. Of course, we need to be mindful of our history, because people who forget the path they took in the past will not be able to find their way into the future. I would very much like Kyrgyzstan and Russia to maintain their relations in their current state forever, for centuries, since as you know there were attempts to destroy, dismantle these ties and take them along a different path. The last six years were very challenging for me in this regard. Of course, I would very much like these brotherly relations that we have restored to become only stronger," Atambayev said.
The two leaders discussed the viral issues of Kyrgyz-Russian cooperation and prospects of further interaction, as well as implementation of joint projects.
Reported by Kabar (Kyrgystan).