President Atambayev shares his long-term vision of the country's development
16.11.2017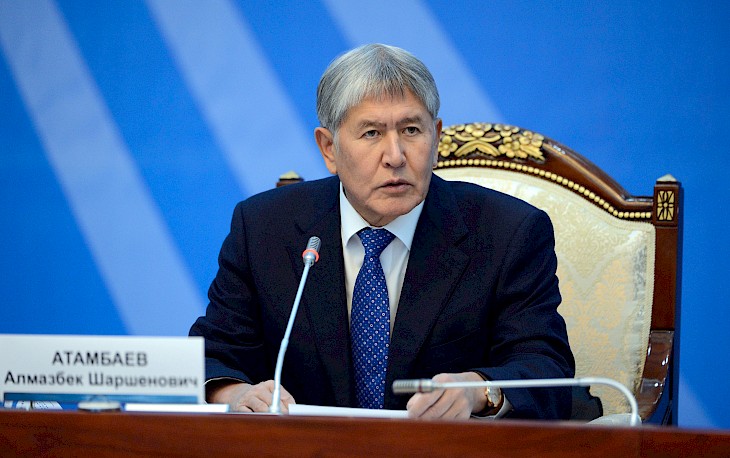 President of Kyrgyzstan Almazbek Atambayev today at the sixth meeting of the National Council for Sustainable Development of the Kyrgyz Republic shared a long-term vision of the country's development.
He said that the man is at the center of strategy as the main subject and goal of the development strategy. Subordination of programs for the development of management, economics, social and other spheres is an important condition for ensuring the safe, successful and comfortable living of a person in the modern and future world.
"Of course, it's very difficult to talk about 2040 when you are 61 years old. But I am sure that in 2040 Kyrgyzstan will become a strong and self-sufficient country. In the center of which will be a person and his rights. If we correctly determine the benchmarks, we will get the desired result," Atambayev said.
He said that the formation of a new generation of creative, technological, patriotic and responsible members of society is the key task of the Strategy. "It is important to participate in the implementation of the Strategy of every member of our society who wants to live in a new time - an economically prosperous, socially prosperous and secure state. First of all, we are talking about a new approach to the system of public administration. We need a pleiad of young, ambitious, creative, and most importantly sincerely loving their homeland, managers who can work in new digital formats, " he said.
The President said that, at the same time, there is a need to transform the institutions of state power. Changes in the presidential institute envisage a reduction of powers, some of which are transferred to the Parliament and the government of the Kyrgyz Republic.
A special place in the strategy, the head of state emphasized, is to create worthy economic and social conditions. The key task of the state at this stage will be to provide basic social guarantees of the state in relation to the conditions and quality of life of a person, to support and strengthen the institution of the family. Realization of this task is possible only with a strong and self-sufficient economy. Therefore, the strategy provides for economic policy measures that lead to growth in the investment attractiveness of the country, the creation of decent jobs, improving the infrastructure and development of the regions of the country, creating conditions for the growth of entrepreneurial activity.
"The governmental programme Taza Koom, aimed at creating an efficient and transparent public administration system based on innovation, technology and the digital economy is an important component of Strategy 2040," Atambayev said.
Reported by Kabar (Kyrgyzstan).